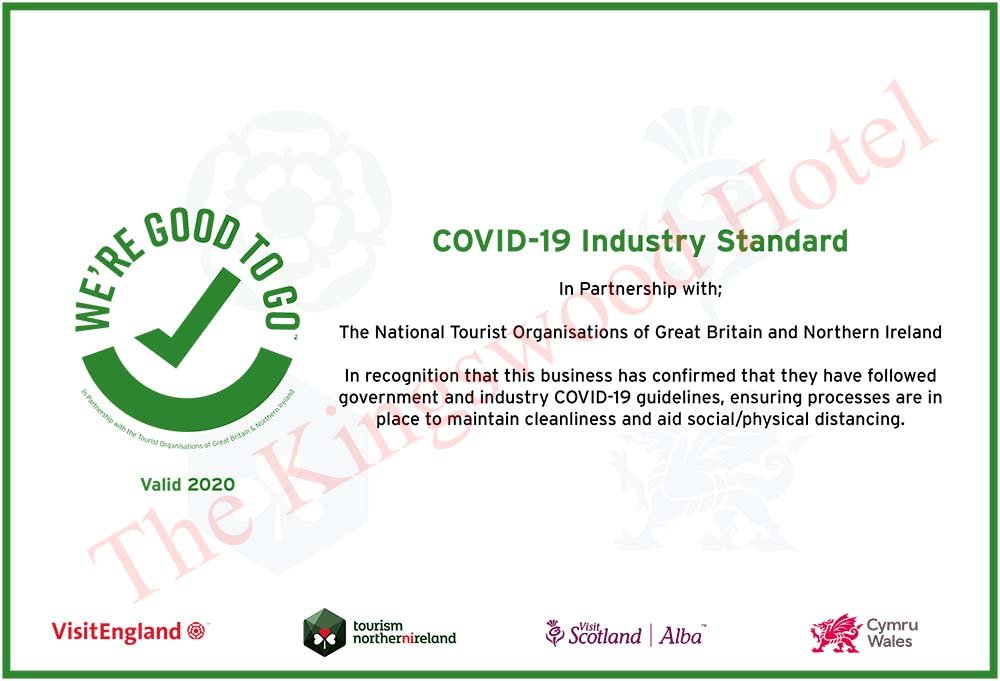 Reopening Monday 20th July 2020
We are delighted to announce that we plan to reopen our hotel on Monday 20th July 2020 in line with Scottish Government guidelines.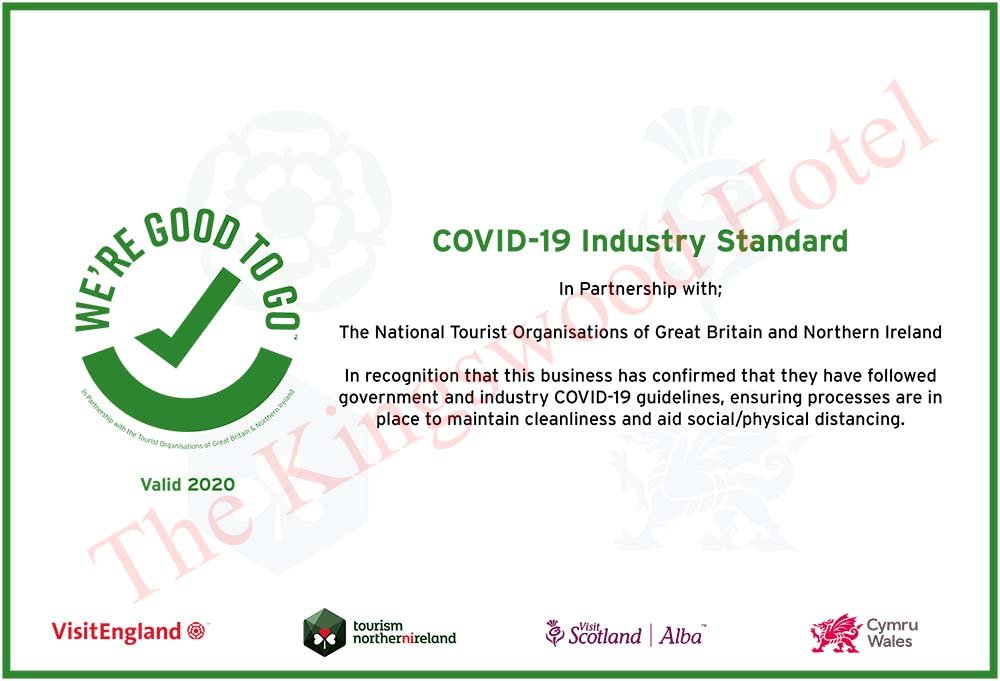 As health and safety are the top priorities for our guests and our team, advice and guidance from Visit Scotland and Public Health Scotland has been followed to give you confidence that everything in our power is being done to welcome you back to a safe and clean hotel
Your continued support and good wishes have been much appreciated by us all and we look forward to welcoming you very soon.
From Rankin and Kathryn and  the team at the Kingswood Hotel
Covid-19 Safety Measures
At Kingswood Hotel, providing a clean and safe environment for our Guests and  Team of Staff has always been of paramount importance to us which is why, due to the COVID-19 pandemic, we are looking to further raise our standards of cleanliness.
We have always been proud of our high standards of housekeeping and hygiene, and have put every effort into providing an even cleaner and safer experience from arrival to departure
As well as providing our team with a safe place to work by the enhanced raising of our cleaning standards guests can be reassured and enjoy a safe and comfortable environment throughout their visit.
The following steps have been put in place to help you feel more confident during your forthcoming stay with us.
Arrival and Check-in: As you enter through our main door you will find, helpful social distancing guidance, a touchless hand sanitising station and a clear glass screen at our Reception Desk .partition. Hand sanitisers are also available throughout the hotel.
Guest Accommodations: Although you will continue to enjoy the same housekeeping services as previously, each room will be sanitised with the appropriate cleaning materials and based on recommendations from suppliers. At this time we are removing unnecessary stationery and some decorative soft furnishings from each room.
High-Touch, Deep-Clean Areas: Extra disinfection will occur in the most frequently touched areas in bedrooms, including electrical switches, door handles, remote controls, telephones and bathrooms
Approved Cleaners and Training: All rooms will be cleaned and disinfected between guest stays using EPA COVID-19-approved cleaning solutions. Housekeepers will have received additional training about the proper use of all chemicals
Bar and Restaurant: We will be intensifying our practice on cleaning and disinfecting public-lounges, bar and restaurant seating areas. Cleaning of areas will also take place more often and with closer attention to high-touch points. You will also notice safer service procedures. While our team of staff may be physically distanced, we will do our very best to deliver the special hospitality our guests know and love. Enhanced safety hospitality measures include:
Public Spaces: Our added  Safety measures will focus on cleaning and disinfecting all public spaces — check-in and food and beverage areas, paying particular attention to high-touch points.
Social Distancing: Social distancing measures have also been introduced in certain areas, including Reception, Tall Trees Restaurant and Canmore Lounge with Clear signage being available.
PPE and Enhanced Training: All of our team will receive where appropriate –  PPE items and enhanced training designed to protect their wellbeing while continuing to deliver our usual high friendly  & efficient hospitality.
For the safety of all –  our staff working behind the scenes will also follow the same high standards of our new guidelines.
Ensuring the Wellbeing of our Team of Staff and Guests
The health and safety of our Guests and Team is our top priority. We will continue to look for ways to improve our routines as additional guidance and recommendations become available.
Pre-Arrival Communication will also be sent prior to a guest's planned arrival with information about our new safety measures. At that time we will also advise guests of their responsibilities in this new situation, including not travelling when sick or under quarantine and following current social distancing rules
On the guest's arrival, our Front Desk Team will be required to sanitize hands in view of guests before and after guest interactions. Credit card terminals will be sanitized before each use. Issuing of keys will be done to minimize hand-to-hand contact. We will also promote "cashless" stays,   If any of our Front Desk Team is required to handle cash, they will sanitize hands after each transaction.
For guests staying for more than one night, rooms will only be serviced on request during their stay in order to minimise staff contact. Additional towels and toiletries etc. can be left outside the room on a daily basis on request.
Team Members will wear appropriate PPE when entering a guest room for any reason, including face covering and gloves.
All guest rooms will be cleaned and disinfected using COVID-19-approved cleaning solutions between guest stays. as recommended by our chemical suppliers, enhanced training will be conducted with our team about the proper use of approved chemicals.
Training of our whole team in relation to the new Covid-19 Safety measures in preparation of their return to work will have taken place including appropriate training on how to properly use PPE which will be provided for them based on their roles and job functions
Our team will be encouraged to clean and disinfect their work areas as often as needed and after each guest interaction.