| WEDDING SHOWS | ! WEDDING OFFERS | | WEDDING SUPPLIERS | | SECRET GARDEN |
We pride ourselves in offering guidance and personal attention from your initial enquiry through to the coordination of the Wedding day itself by your dedicated wedding coordinator.
Our tranquil setting, amongst 2 acres of beautiful gardens and woodland with stunning views across the river Forth offers the perfect Wedding venue for both Wedding Ceremonies and Wedding Receptions.
For a grand formal occasion, our Alexander Suite is the ideal wedding venue, whilst our Conservatory is idyllic for more intimate occasions. We are also licensed for Civil Ceremonies to take place in our hotel, or, weather permitting, within our 'secret garden'.
Alexander Suite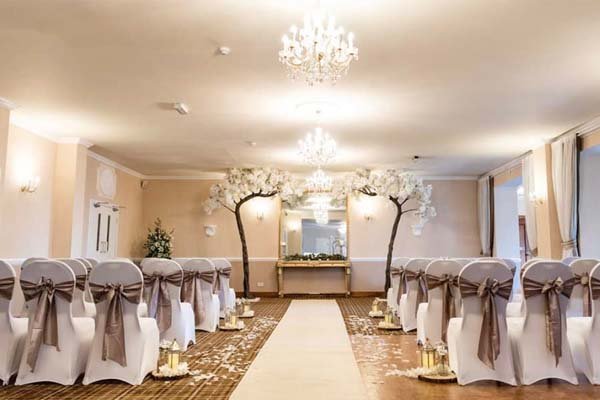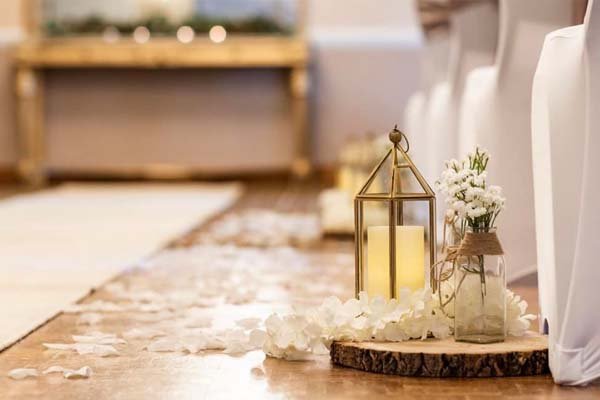 Our Alexander Function Suite has a formal seating capacity of up to 100 guests and a total capacity of up to 200 for an evening reception.
Conservatory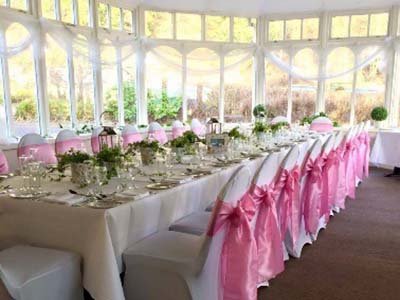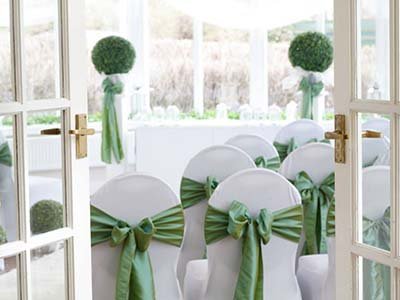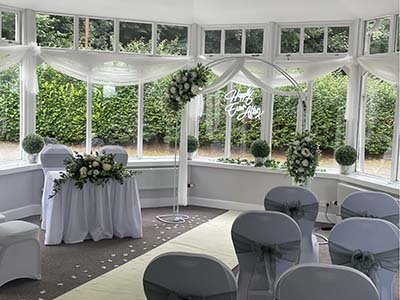 The Conservatory has a seating capacity of around 30 guests for a formal meal. Alternatively, if you would like to have your ceremony in the conservatory before enjoying your meal and evening reception in the Alexander Suite, an aisle layout can accommodate up to 50 guests.
Kingswood Gardens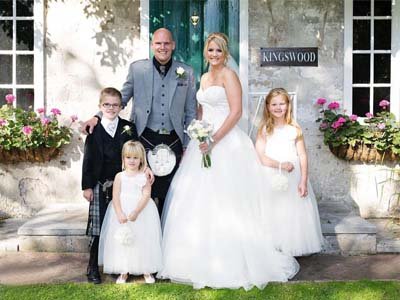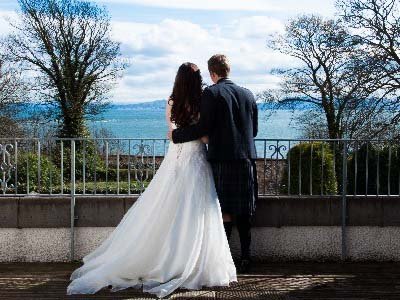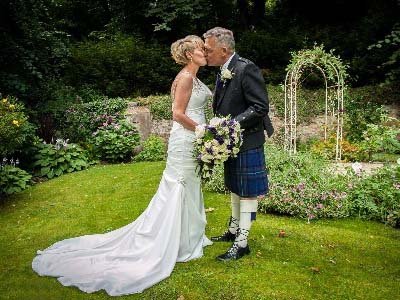 At the Kingswood, we are fortunate to have several beautiful locations for photography. Weather permitting our 'secret garden' is also a possible ceremony location. Visit our page Secret Garden for more information.
Wedding Packages
We have several all-inclusive wedding packages which can be adapted to suit, alternatively, we are happy to quote for your own personal requirements.
Download an instant copy of our brochure below or contact the hotel to arrange an appointment with our wedding coordinator.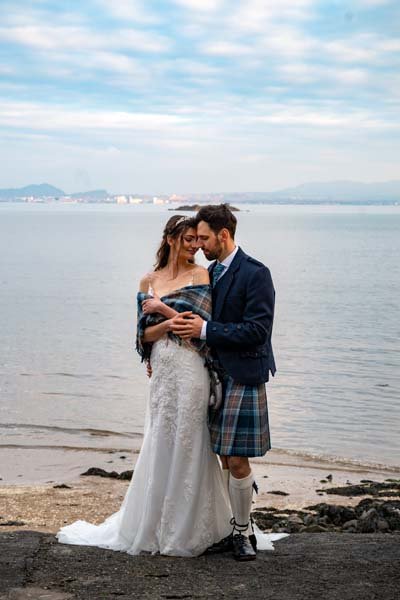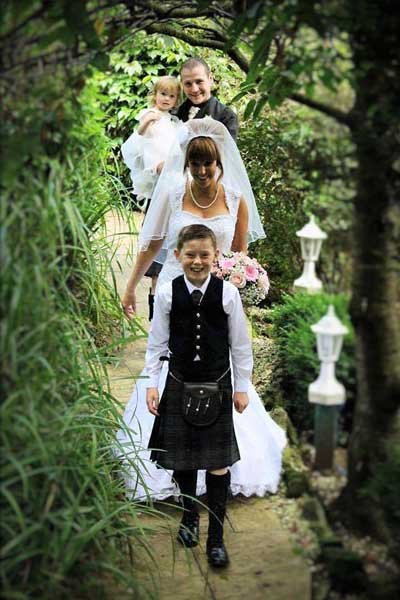 When you fill in and submit your details your copy of our Wedding Brochure will download and be available for you to view or print out. If our Wedding Brochure does not download please do not worry we will also send you a copy by email. When you request a Wedding Brochure please tick the option to sign up for our newsletter and you will receive the latest news of Wedding Fayres, Open Days and other events and offers at The Kingswood Hotel. You can unsubscribe at any time.


The Kingswood Hotel has set up a special Intimate, 20 guest, Wedding package available 2023
Download details here
.


If you are looking for Wedding Venues in Fife, take a look at our 2025-2026 Winter Wedding Package Offers for great savings on our standard package without sacrificing quality and service.

We had our wedding at the Kingswood Hotel last Saturday 27th May 2023. Fantastic! It could not have gone better and flowed like a dream. One week on and we are still getting compliments for how great the day went. So big thank you to Dal, Nikala and all the staff, who were fab, including the chefs who produced the lovely food – apparently the stovies were the best!!! Highly recommended, family friendly hotel with one of the best views and locations in Scotland. We will be back.
Jacqueline Simpson
June 2023
We got married here on 8th April 2023 and it was the best day ever! Not only was the sun shining but they guys here could not have done any more for us if they tried! Everything was amazing! Nikala was amazing with us on the run up to the day going through everything, and helping me with all my daft questions. Nothing was too much bother for her. Nikala and Dal on the day were AMAZING! They kept me calm and hydrated on the way to walk to down the aisle. And they were there at every step incase I needed anything. (I was a VERY nervous bride) Not once did I feel rushed by them or that anything was too much bother. Nikala was defo the friend I never knew I needed on the day! The venue was amazing, the food was amazing, and we were an awkward family, with vegans, vegetarians and gluten free people and they catered for us all with not one bit hassle. Nikala and Dal went above and beyond for us!! Would not change one thing about the day, it was PERFECT in everyway
Sara and Chris Paterson
April 2023
We had our wedding here on 8/2/20 and it was the most magical day ever!!! staff were fantastic from when we first started arriving on the Thursday right through until my husband and I left on Monday morning!! everything was absolutely perfect and nothing was a bother! we were lucky to have good weather and the views were outstanding! we can't wait to come back on other occasions whether for coffee and awesome cake or for dinners and events 🙂 thank you to Rankin, Katherine and the team for making everything perfect.
Alannah Fetter
Feb 2020
I would 100% recommend the Kingswood hotel for a wedding venue. My wedding was absolutely perfect from start to finish, the staff would bend over backwards to help anyone.
The views from the hotel were unreal and I honestly could not fault it at all!!.
Becky Jane Niven with Macaulay Niven and 2 others
January 2020
Couldn't have picked a better place to get married. From start to finish everything was perfect! Rankin and the team we're absolutely amazing!! The hotel is gorgeous as is the food!! So happy to have shared this special day with everyone and will definitely be back! Xx
Louise Harvey with Scot Harvey.
July 2019
Our perfect summer wedding.
I have just had my wedding here and it was the most perfect day ever. We've had a year and a half to plan it and Rankin and the staff have helped us greatly throughout the months. We booked the platinum package so everything was basically sorted for us, we just had to pick the colours/themes/centrepieces etc.
Me and my bridesmaids stayed the night before in the family room which was absolutely stunning, as was the bridal suite. The staff couldn't have done any more for us from start to finish!! Nothing was a hassle, everything just seemed to flow perfectly! We even got breakfast to the room while me and the girls were getting hair and makeup done in the morning of the wedding!!
The grounds of the hotel are gorgeous and Rankin will happily recommend any services for the wedding also which we used! Also which I thought was great and never seen before, when I left on the Sunday, we were offered if we wanted to keep the centrepieces (not the vase, the flowers) so I went home with the biggest bunch of Lillies!! I got 6 vases from them lol I honestly couldn't fault anything with the Kingswood, from start to finish it was just magical and the food was incredible too.
All our guests couldn't stop going on about how great the food was. If your not booking a wedding/function I would go along even for a meal….the Sunday carvery has to be the best!! I could go on and on but I think for anyone to understand how great the place is, you need to visit it for yourself! Thankyou to Rankin and all the staff for the most magical day ever! It won't be the last time you see us!!
Reviewed by Louise-2388
July 2019
Mr and Mrs David/Mary Johnston would like to say a big Thank you for great day of our wedding and everything in hotel was great day good meals and beautiful room also good weather
Thank you Rankin and his lovely wife and their staffs in Kingswood Hotel
From David and Mary (28/9/19).
David J Johnston
September 2019

Family-friendly · Large suites · Good room service · Great hotel bar · Luxury bath products · Romantic atmosphere · Historic building · Design hotel
We were married here on Friday 21st June. We had the best day of our lives beautiful setting, friendly staff nothing was too much and lovely furnished.
Thank you Rankin and team for everything and our card was a thoughtful touch.
We will be back to visit time and time again. x
Heather Knibbs
June 2019

Romantic atmosphere · Quiet rooms · Family-friendly · Helpful concierge · Great hotel bar · Spacious rooms
We had our Wedding at the Kingswood Hotel on 30/3/19 and had a brilliant day. We chose the hotel as our venue for the beautiful setting with the sea views and lovely gardens. Rankin was on hand to answer any questions even before booking and right up to the day and him and the staff of the hotel were absolutely brilliant on the day. Everything went smoothly and was organised so well. We had the ceremony and meal in the conservatory and it was decorated beautifully and the meal was lovely and everyone enjoyed it. The night time reception was held in the Alexander suite and the night was great fun with the disco and buffet( again the food was lovely) The hotel is great as it has wee nooks and crannies where guests can go for a wee bit of peace away from the main areas. The communal balcony was brilliant was an amazing view over Pettycur Bay. The rooms were also lovely and again we had a lovely balcony with sea view. The sun also came out and managed to get some great pictures in the secret garden. We had an amazing day. Thank you Rankin and team.
Fiona and Mark
Reviewed by Paistropical11
April 2019

We held our wedding at the kingswood in February this year and we couldn't be happier with everything from the build up to the wedding to the day. Prior to the day Rankin is always available to take questions and assist with any queries we had – however small and nit picky they were! He was able to custom build a wedding package that suited both Paige and I and it all felt really tailored to our personalities. On the day Rankin kept the day rolling perfectly. Words cannot express how helpful it is to have a wedding coordinator like Rankin who are able to keep things running smoothly throughout the day. The venue itself looked amazing. From the sashes to the candles it was perfect. He even booked in the sunny weather in february! Thanks to rankin and his staff, absolutely perfect day for us.
Paige and Pete
Reviewed by Paigeunicollege
March 2019
We had our wedding there and the service was second to none i can't praise Rankin and his staff enough for making our day so very special
Jennifer Urquhart
February 2019