At the Kingswood Hotel in Fife, we are proud to be able to host a number of music nights and events throughout the year. This page will hold details of upcoming events that are open to the public.
If you wish to hire the Hotel for an event or exhibition contact us on 01592 872329. Our events team can help promote your event on our Website, Twitter and Facebook page.

Jazz On A Sunday Afternoon
Sunday 17th June – 2:30pm to 4:30pm
Come along to an afternoon of Jazz at The Kingswood Hotel in Burntisland.
TdG are a jazz trio with the classic cocktail of sax, keyboards, and bass, add a dash of guitar, stir-in some original numbers, and you have a fresh and exciting mix of jazz classics and original material. Their influences range from Charlie Parker, Theolonious Monk, Charles Mingus and Stan Getz, to name but a few. TdG Jazz's repertoire includes classic swing numbers of the 30's through to 50's bop with some latin/bossa nova standards and some original compositions as well. Enough to entertain any jazz audience!
Tickets: £5 each (limited number available on the door)
The Canmore bar will also be open selling homemade Cakes, Coffee & Cocktails.
Make a day of it and dine in the Tall Trees Restaurant before or after the show. Sunday is a very busy day for us in the Restaurant so we suggest you telephone us on 01592 872329 to book a table. Check out our Sunday Menu.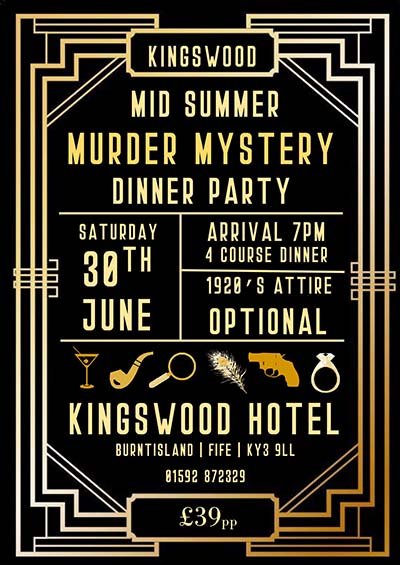 Mid-Summer Murder Mystery Dinner Party
Saturday 30th June – 7.00 pm
A little party never killed anybody….
Set in the twenties your dinner party will be presented with a series of clues by actors and you must attempt to solve a deadly who-dun-it by answering three simple questions: WHO committed the crime, HOW and WHY? 1920's theme attire is optional but a prize will be presented to the best dressed.
Four-course dinner will be served (dietary requirements can be catered for, please specify at time of booking). Pre-booking only: £39 per person or you can go for our special offer of £160 per couple including overnight accommodation and breakfast.
Book direct on 01592 872329



From dances to live music gigs, from shopping therapy to wedded bliss, you don't want to miss out because no one told you! Join our newsletter and follow us on FACEBOOK to keep in touch.
Subscribe to our newsletter and hear about our hotel and restaurant news as it happens? Information on our latest events, concerts and offers delivered direct to your mail box.