Events in Fife: At the Kingswood Hotel in Fife, we are proud to be able to host a number of music nights and events throughout the year. This page will hold details of upcoming events that are open to the public. For more events in Fife and surrounding area look in on our 'Local Events' page.
If you wish to hire the Hotel for an event or exhibition contact us on 01592 872329. Our events team can help promote your event on our Website, Twitter and Facebook page.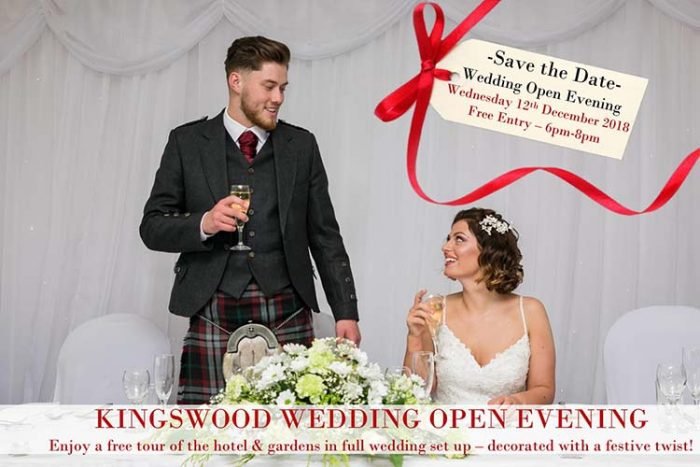 The Kingswood Hotel welcomes you to our first wedding open evening on the 12th December 2018, free entry, 6 pm to 8 pm. For more details on our wedding events and information about our winter wedding deals visit our wedding section.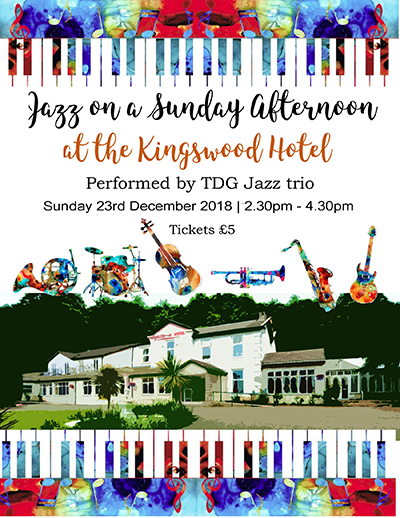 Performed by
TdG Jazz Trio
Take a jazz trio with the classic cocktail of sax, keyboards, bass and drums, add a dash of guitar, stir-in some original numbers, and you have a fresh and exciting mix of jazz classics and original material. Playing at the Kingswood Hotel Burntisland Fife on Sunday 23rd of December 2018
Jazz on a Sunday Afternoon 23rd December
2.30 pm to 4,30 pm Tickets £5.00 pp



The Kingswood Hotel is proud to put on events in Fife. From dances to live music gigs, from shopping therapy to wedded bliss, you don't want to miss out because no one told you! Join our newsletter and follow us on FACEBOOK to keep in touch.
Subscribe to our newsletter and hear about our hotel and restaurant news as it happens? Information on our latest events, concerts and offers delivered direct to your mail box.