Events in Fife: At the Kingswood Hotel in Fife, we are proud to be able to host a number of music nights and events throughout the year. This page will hold details of upcoming events that are open to the public. For more events in Fife and surrounding area look in on our 'Local Events' page.
If you wish to hire the Hotel for an event or exhibition contact us on 01592 872329. Our events team can help promote your event on our Website, Twitter and Facebook page.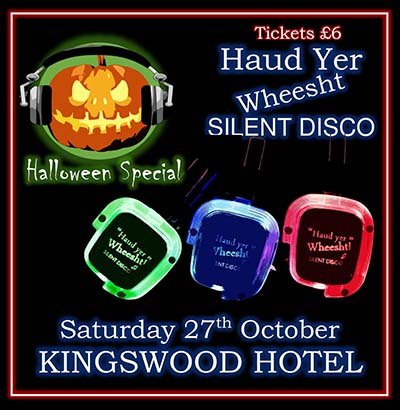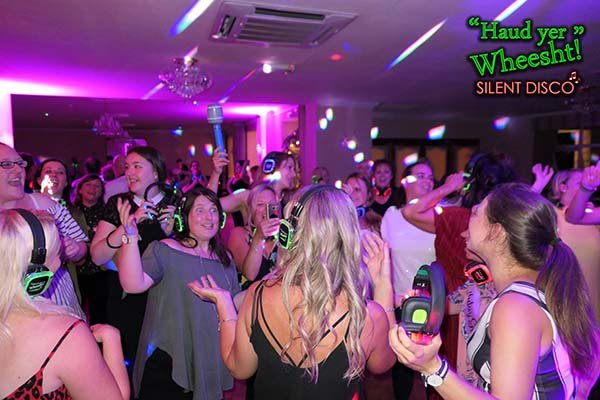 Halloween Silent Disco (18+ event)
After the Huge success of the Kingswood's first Silent Disco party night in July, we are delighted to reveal Haud Yer Wheesht is back on Saturday 27th October 2018. Tickets only £6.00pp. returnable deposit required for headphones.
This will be a Halloween Silent Disco party night so Fancy Dress time. There will be a prize for the best dressed too! Themed Halloween Cocktails will also be available on the evening.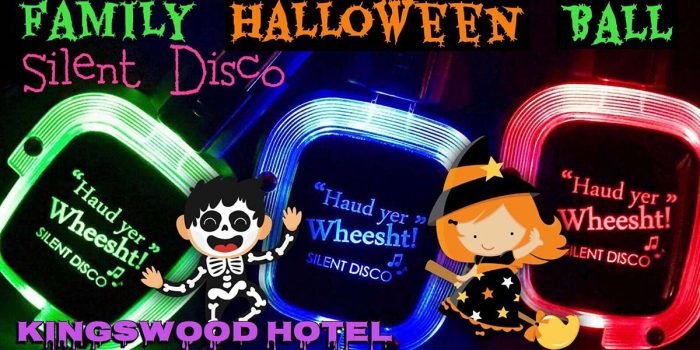 Family Halloween Disco
Sat 27th October, 1 pm to 3 pm, Tickets Adults/Children £4.00pp
On Saturday 27th October Haud Yer Wheesht head to Burntisland for their first Family Silent Disco event at the Kingswood Hotel.
From 1-3pm Haud Yer Wheesht will be in the Mix serving up Ghoulish Party Anthems across 3 Channels of Silent Disco. Guaranteed to have the Kids, Mum and Dad and Grandparents all going for it on the Dancefloor!
Tickets for our Halloween disco's are available from The Kingswood Hotel. Tel: 01592 873123.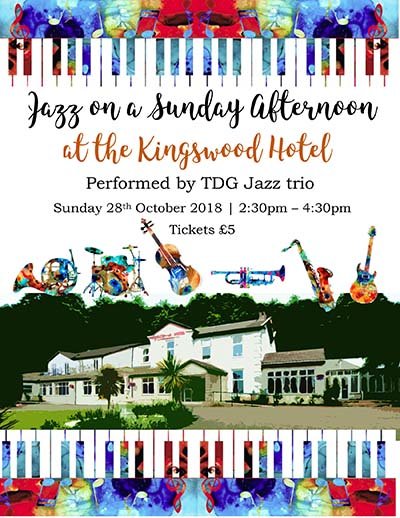 Performed by
TdG Jazz Trio
Take a jazz trio with the classic cocktail of sax, keyboards, bass and drums, add a dash of guitar, stir-in some original numbers, and you have a fresh and exciting mix of jazz classics and original material. Playing at the Kingswood Hotel Burntisland Fife on Sunday 28th of October 2018
Jazz on a Sunday Afternoon 28th October
2.30 pm to 4,30 pm Tickets £5.00 pp

i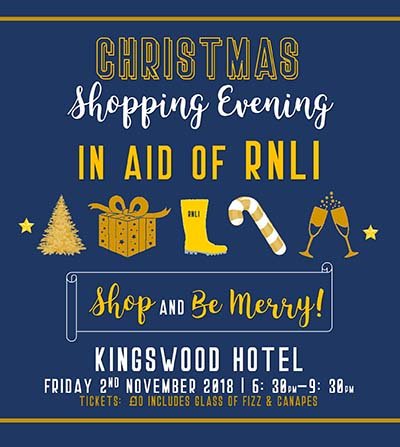 RNLI Christmas Shopping Evening
Friday 2nd November 6:30pm-9:30pm
Come along for a great night out at the
RNLI's bi-annual Christmas Shopping Night.
Visit 20+ stalls, buy presents or collect ideas for a gift to someone special. There will also be live entertainment and a raffle.
Tickets £10 includes a glass of Prosecco,
Kingswood Canapes, and entry into Prize Draw.
Full cost of ticket goes to the RNLI
This is a pre-ticketed event, there will not be tickets available on the door.



The Kingswood Hotel is proud to put on events in Fife. From dances to live music gigs, from shopping therapy to wedded bliss, you don't want to miss out because no one told you! Join our newsletter and follow us on FACEBOOK to keep in touch.
Subscribe to our newsletter and hear about our hotel and restaurant news as it happens? Information on our latest events, concerts and offers delivered direct to your mail box.