Events in Fife: At the Kingswood Hotel in Fife, we are proud to be able to host a number of music nights and events throughout the year. This page will hold details of upcoming events that are open to the public. For more events in Fife and surrounding area look in on our 'Local Events' page.
If you wish to hire the Hotel for an event or exhibition contact us on 01592 872329. Our events team can help promote your event on our Website, Twitter and Facebook page.

Bruce Davies – Acoustic Music at its Best…
Bruce Davies – Sunday 22nd July 2:30 – 4:30
Join Bruce for a relaxing afternoon of live music in the conservatory. Coffee, cake and cocktails will also be available from the Canmore Bar. Why not make a day of it and book a table for lunch or high tea in the Tall Trees Restaurant?
Tickets £5 from the Kingswood reception – ( a small amount will be available from the hotel door, subject to availability)
"…crisp acoustic guitar playing that perfectly complements his wonderful voice…" – Edinburgh Evening News (2017)

Round up your friends, family and work colleagues
for a totally unique party experience!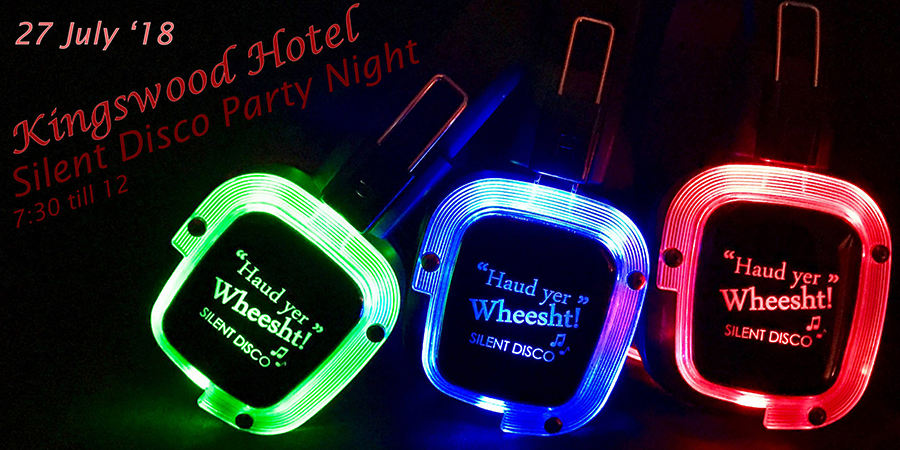 Haud yer Wheesht! Silent Disco
Friday 27th July – 7:30pm-midnight
Haud yer Wheesht! Silent Disco are delighted to announce that we will be hosting our first public Silent Disco event at the Kingswood Hotel on Friday 27th July!
Our Haud yer Wheesht! DJs will be in the mix over 3 channels of Silent Disco, serving up Massive Party Bangers from the 60s/70s/80s/90s/00s to Present Chart!
At any one time you select which of the 3 channels you want to listen to from your own wireless headset that changes colour Red, Green or Blue depending on the channel selected and you can switch between the three channels all night… so at any moment in time the choice could be Calvin Harris, Spice Girls or Billy Ocean… what channel would you choose?
Tickets are on Sale NOW! at the Kingswood priced at £6 each
or online via Eventbrite, £6 plus booking fee.
*£10 headphone deposit also required on entry on the night.
Refunded when headset is returned.

Elsa Jean McTaggart
Sings Strings and Other Things
We're delighted to welcome Elsa back to the Kingswood with her Original Music Show, an eclectic mix of music genres, stories and instruments.
Sunday 2nd September 2 pm to 4pm
Adding to this fabulous event will be warm-up act SidebySide. This will be the duo's first time performing at the Kingswood, with smooth summer acoustic tunes from 2pm followed by Elsa at 2:30pm.
Tickets available £6 each or two for £10 beforehand from the Kingswood Reception.
Take songs that stop conversations, a voice that could stop wars and a fiddle that stops at nothing, and you have the icon Elsa Jean McTaggart. In Sings, Strings and Other Things, award-winning Scottish folk musician Elsa performs original compositions in a traditional style – lively jigs, reels, hornpipes and airs, all played on the fiddle and whistle. Garnering 5-star reviews, Elsa's original take on the world music genre make her a hugely popular performer amongst audiences the world over. Elsa Jean McTaggart is the great-grand-daughter of the Edinburgh-renowned artist William McTaggart and his musician paints pictures with words, music and song. 
Returning to the Kingswood, following a European tour, Elsa's songs range from folk to contemporary, blues, jazz and swing, are performed with guitar, a capella or sometimes the fiddle, accompanied by her marvelous Mr Lister on keys. Elsa writes about life, about spiritual and emotional aspects, and about people she has met. 
"a Scottish Superwoman of acoustic music" ***** ThreeWeeks
"Elsa plays and sings with great charm and poetic fluency." ScottishIslands.com



The Kingswood Hotel is proud to put on events in Fife. From dances to live music gigs, from shopping therapy to wedded bliss, you don't want to miss out because no one told you! Join our newsletter and follow us on FACEBOOK to keep in touch.
Subscribe to our newsletter and hear about our hotel and restaurant news as it happens? Information on our latest events, concerts and offers delivered direct to your mail box.