Events in Fife: At the Kingswood Hotel in Fife, we are proud to be able to host a number of music nights and events throughout the year. This page will hold details of upcoming events that are open to the public. For more events in Fife and surrounding area look in on our 'Local Events' page.
If you wish to hire the Hotel for an event or exhibition contact us on 01592 872329. Our events team can help promote your event on our Website, Twitter and Facebook page.

Elsa Jean McTaggart
Sings Strings and Other Things
We're delighted to welcome Elsa back to the Kingswood with her Original Music Show, an eclectic mix of music genres, stories and instruments.
Sunday 2nd September 2 pm to 4pm
Adding to this fabulous event will be warm-up act SidebySide. This will be the duo's first time performing at the Kingswood, with smooth summer acoustic tunes from 2pm followed by Elsa at 2:30pm.
Tickets available £6 each or two for £10 beforehand from the Kingswood Reception.
Take songs that stop conversations, a voice that could stop wars and a fiddle that stops at nothing, and you have the icon Elsa Jean McTaggart. In Sings, Strings and Other Things, award-winning Scottish folk musician Elsa performs original compositions in a traditional style – lively jigs, reels, hornpipes and airs, all played on the fiddle and whistle. Garnering 5-star reviews, Elsa's original take on the world music genre make her a hugely popular performer amongst audiences the world over. Elsa Jean McTaggart is the great-grand-daughter of the Edinburgh-renowned artist William McTaggart and his musician paints pictures with words, music and song. 
Returning to the Kingswood, following a European tour, Elsa's songs range from folk to contemporary, blues, jazz and swing, are performed with guitar, a capella or sometimes the fiddle, accompanied by her marvelous Mr Lister on keys. Elsa writes about life, about spiritual and emotional aspects, and about people she has met. 
"a Scottish Superwoman of acoustic music" ***** ThreeWeeks
"Elsa plays and sings with great charm and poetic fluency." ScottishIslands.com

Family Ceilidh in aid of Cancer Research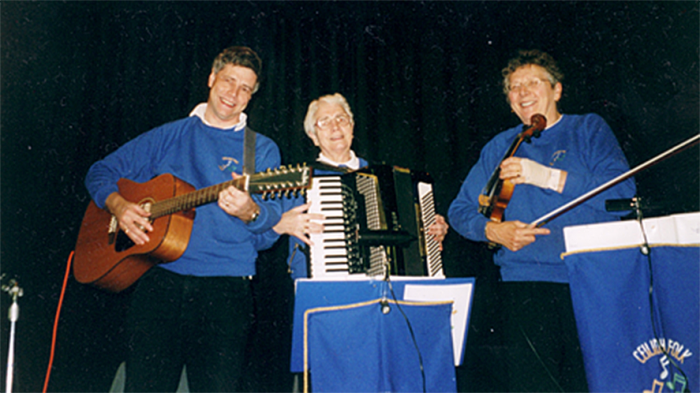 Kingswood Hotel 22nd September 7:30pm
In memory of Sylvia Thompson – Accordionist with Ceilidh Folk – who passed away this year.
Sylvia played at the Kingswood Hotel every Hogmanay for 15 years from 1999. These were always wonderful nights and a great way to celebrate the New Year.
As a celebration of her life, a fund-raiser is being held with all proceeds going to Cancer Research.
Tickets £10 each including stovies
There will be several combinations of musicians playing through the evening, all of whom knew Sylvia through her music.  All the dances will be called.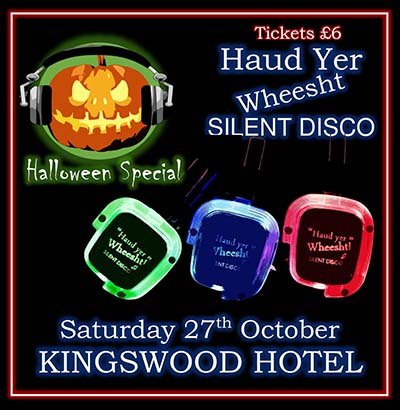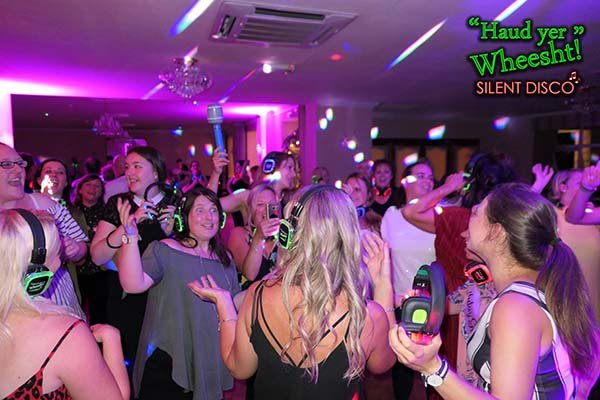 Halloween Silent Disco (18+ event)
After the Huge success of the Kingswood's first Silent Disco party night in July, we are delighted to reveal Haud Yer Wheesht is back on Saturday 27th October 2018. Tickets only £6.00pp. returnable deposit required for headphones.
This will be a Halloween Silent Disco party night so Fancy Dress time. There will be a prize for the best dressed too! Themed Halloween Cocktails will also be available on the evening.
Save the Date and tickets will be available soon from the Kingswood reception or online from the Haud Yer Wheesht facebook page.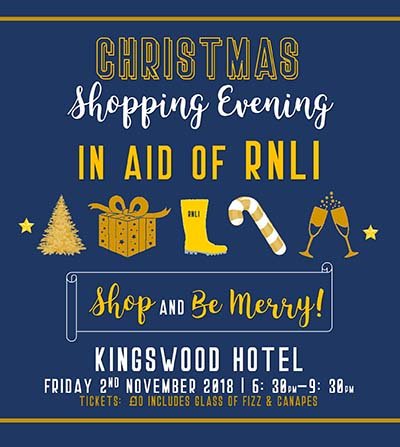 RNLI Christmas Shopping Evening
Friday 2nd November 6:30pm-9:30pm
Come along for a great night out at the
RNLI's bi-annual Christmas Shopping Night.
Visit 20+ stalls, buy presents or collect ideas for a gift to someone special. There will also be live entertainment and a raffle.
Tickets £10 includes a glass of Prosecco,
Kingswood Canapes, and entry into Prize Draw.
Full cost of ticket goes to the RNLI
This is a pre-ticketed event, there will not be tickets available on the door.



The Kingswood Hotel is proud to put on events in Fife. From dances to live music gigs, from shopping therapy to wedded bliss, you don't want to miss out because no one told you! Join our newsletter and follow us on FACEBOOK to keep in touch.
Subscribe to our newsletter and hear about our hotel and restaurant news as it happens? Information on our latest events, concerts and offers delivered direct to your mail box.