ABERDOUR CASTLE & GROUNDS
(less than10 minutes)
The extensive remains of this splendid 14th Century Castle overlook the harbour and it is situated in the centre of this charming village.  St. Fillans church, situated beside the castle is also worth a visit, with some interesting headstones.
RAVENSCRAIG CASTLE & PARK
(10 minutes)
Built in 1460 by James II to defend against the English and also pirates who harried the Firth of Forth.
DYSART (10 minutes)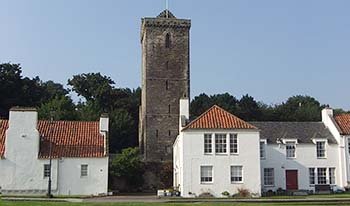 Historic Village and Conservation Area with charming harbour and Visitor Centre at the Harbourmaster's House.
WEMYSS CASTLE GARDENS
(15 minutes)
Fabulously restored walled & wild gardens at Wemyss Castle can be visited May-July by prior arrangement. 01592 652181.
ANDREW CARNEGIE BIRTHPLACE MUSEUM  (20 minutes)
The Carnegie Birthplace Museum is a Visit Scotland 4 Star Attraction and is Fully Accredited by Museums Galleries Scotland. It offers new interactive displays, a programme of temporary exhibitions and a free education programme Tel. 01383 724 302.
DUNFERMLINE ABBEY (20 minutes)
The 'Westminster of the North'.  Burial place of King Robert the Bruce and Malcolm Canmore, ancient seat of kings, fine Romanesque nave. Open March to October.
DUNFERMLINE – ABBOT HOUSE
(20 minutes)
A treasure house of Scottish history.  The oldest house in Dunfermline, you can trace the history from the Picts to the present day.
FALKLAND PALACE AND GARDENS (25 minutes)
The Royal Palace of Falkland was the country residence and hunting lodge of eight Stuart monarchs, including Mary Queen of Scots.  Built between 1502 and 1541 it is a prime example of Renaissance architecture. Open Easter-October. The Village of Falkland itself is very pretty and well worth a visit.
KELLIE CASTLE & GARDENS
(35 minutes)
The oldest part is believed to date from 1360, but the building in its present form is mainly 16th-and early 17th-century and was completed about 1606. Castle open May-September Gardens open all year 0844 493 2184.
HILL OF TARVIT MANSION HOUSE
(35 minutes)
Gardens & grounds open all year House open Thursday-Monday 1.00pm-5.00pm April to October Tel 01337 840319
SCOTSTARVIT TOWER (35 minutes)
Key available from Hill of Tarvit Mansion House.
ROYAL BURGH OF CULROSS
(25 minutes)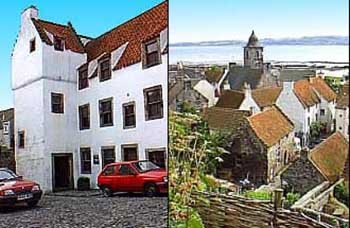 The town of Culross is an almost perfect example of a Scottish burgh of the 17th and 18th centuries. Many of the houses are with the crows' feet gables, pantile roofs and narrow cobbled streets are typical of that time.
CULROSS PALACE (25 minutes)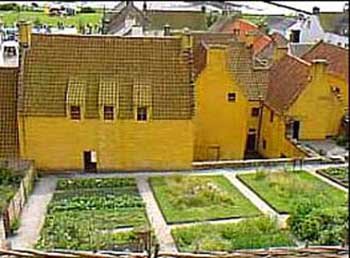 Owned by the National Trust for Scotland including the "Palace" was built for Sir George Bruce, a wealthy merchant and industrialist in the 17th century. Open March-October Thurs –Mon. 0844 493 2189
BALGONIE CASTLE (20 minutes)
14th Century tower oldest of its kind still intact, visitors welcome phoning in advance recommended. 01592 750119.