Terror beyond belief… Horror beyond imagination and that is just the staff, wait until you come face to face with the MURDERER! Murder Mystery Nights in Fife.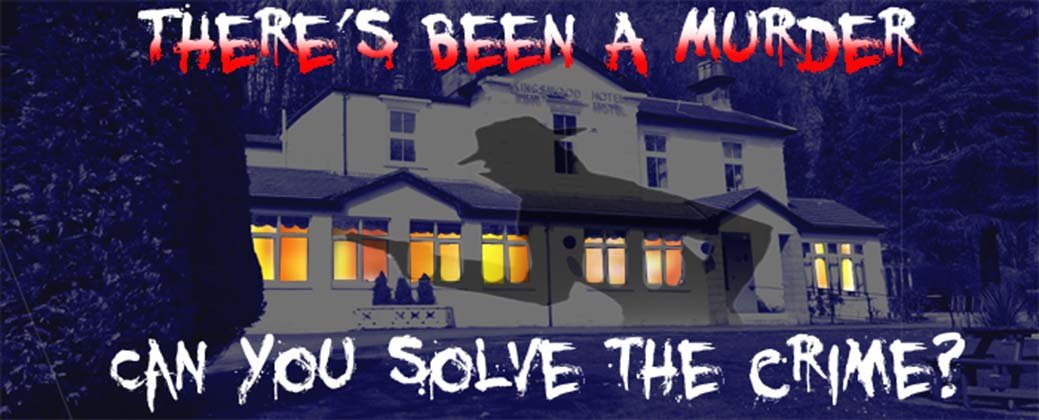 You have travelled to the shores of Fife with an invite to a large secluded building that, even in the dark, stands out against the hills behind it. The lights from its many windows offer the false promise of warmth and safety as they pierce the darkness of the night. The only sounds you hear bring you no comfort; a lone dog howling at the moon, the wind wailing through the trees and the relentless sound of the waves crashing against the shore. This is a night for MURDER.
The Murder Mystery
Dining Experience
An evening of suspense and fun can be arranged by The Kingswood Hotel for private parties and work nights out.
Book your own Murder Mystery Nights
The Kingswood Hotel are able to hold Private Murder Mystery Nights at a cost of £42pp based on a minimum of 20 diners. Included is a Murder Mystery performed by professional actors and a 4 course dinner. Generally the Evening will start around 7pm for 7.30pm with the mystery being performed throughout the meal. They're is an element of interaction between the actors and diners and towards the end of the evening the guests are given the opportunity to work out 'who dunnit' and why, concluding around 10.30pm. If you were thinking about fancy dress, let us know what theme or era you had in mind and we can arrange for the theatre company to perform a mystery to reflect this.

Festive Murder Mystery 2016
Fri 9th Dec and Sat 17th Dec 2016
Our festive murder mystery evenings are an ideal way of introducing yourself to this popular dining experience. The evening starts around 7.00pm for 7.30pm and will conclude around 10.30pm.
As the resident house guests gather and prepare for the Christmas Eve feast, they learn that their host, Dr Black, has been found dead – murdered. Your task is to unravel the tangled web of deceit which the house guests will present; to work out why they are really here, who, if anyone, is telling the truth and which of them might have wanted Dr Black dead. Remember – not one of them wants the truth to be known.
£42 per person. Cost includes a 4 course meal. To book telephone: The Kingswood Hotel 01592 872329.